Why Setting up a Testing Center of Excellence is the Need of the Hour
trantorindia | Updated: August 24, 2022
Substantial improvements are emerging in the Technology landscape. Every business requires effective, dependable software solutions and is capable of supporting complex composite business processes to remain profitable and competitive.
Your business needs to be able to move fast to deliver applications that support new technologies, operate new features, launch new products, and seize new opportunities. Due to these expectations, quality operations and procedures are under much pressure.
The momentum & efficiency needed to keep up with these developments will not be provided by traditional project-level Quality Assurance (QA) approaches. They also don't enable a tech enterprise to fully monitor application quality, acquire insight into project-level quality, or find solutions to lower operating costs and accelerate time-to-market for the most critical systems. Traditional quality assurance is under pressure as more enterprises want to conduct distributed testing operations.
To ensure the quality of crucial business processes and systems. Many large businesses are turning to "center of excellence" models with specialized teams working on standardizing delivery execution techniques. An example of a centralized testing platform is the Testing Center of Excellence (TCOE), which standardizes testing procedures and uses available resources for quality assurance and testing.
What is a Testing Center of Excellence?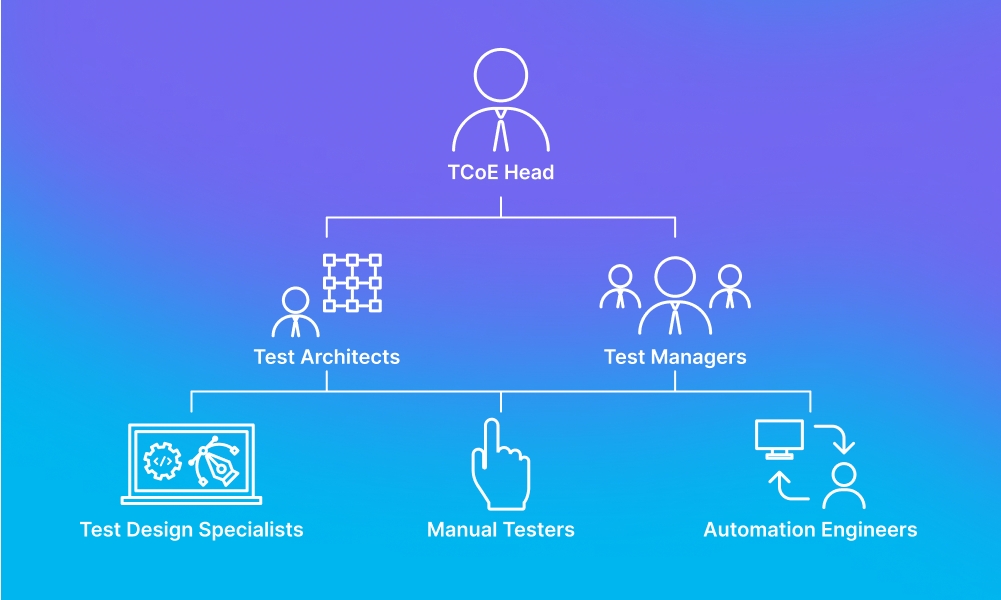 A testing center of excellence (TCoE) is a structure where testing is managed as a centralized service and disseminated throughout the enterprise. It is a fundamental component that includes proper measures, necessary tools, standardized testing procedures, and qualified specialists. The Testing Center of Excellence (TCoE), a combination of tools, QA procedures, and human resources, equips organizations to execute test automation correctly while enhancing the productivity and results of manual testing. As TCoE provides the benefit of scalability and robustness of QA function inside a business, they can attain a higher QA maturity level.
Do you Require a Testing Center of Excellence (TCoE) for your Business?
Enterprises can address these challenges, as well as numerous others, by switching to the TCoE:
Excessive demand for new applications and technology: A QA team struggles to keep up with the rapid rate of technological change and corporate priorities and quickly provide what the business needs.
Poor application quality: Performance problems and flaws are commonly undiscovered until the application is put into production, leading to interruptions and a negative effect on the company.
Unexpectedly high production costs and persistent delivery delays: QA is unable to accurately predict the amount of time and resources needed to release a program for use in production. Due to a lack of visibility across projects, critical applications frequently lack the necessary resources to support them, which results in production bottlenecks and extended time to market.
Losing the race for IT workforce: The already limited IT resources usually slow down due to the tedious manual testing tasks. This strategy is ineffective and can also exacerbate tensions between business and IT and lead to frustration among IT workers. Assigning people to activities that don't play to their primary strengths or failing to provide a route for professional progression might cause a company to lose the competition for the most skilled, dedicated employees in an environment where employers compete for their services.
Inability to incorporate quality standards into the development process: Developers are not implementing "upstream" quality methods like doing unit tests or maintaining formal requirements documentation. As a result, most quality problems are moved to the QA stage, when fixing them requires more time and money.
Business Benefits of a TCoE
Working with clients that have adopted the TCoE, we have found that they can attest to improvements in quality and various beneficial alterations in their workplace strategy.
Enhanced flexibility: A quality team that can scale and manage its quality resources will be able to respond to new business issues and focus its efforts on the projects that are of the highest priority.
Faster time-to-market: Projects previously delayed owing to a lack of available resources and the appropriate skill set are now issued on time, assisting businesses in maintaining their competitiveness and better responding to new business possibilities.
Cost-effectiveness: Centralizing testing resources and tools can reduce duplication, maximize resource efficiency, and cut costs associated with software setup, procurement, and maintenance.
Better quality: The TCoE approach offers better software for applications, a lower risk of failure, and a better user experience. In all domains, we find that an organization's test maturity level increases to "Efficient" after implementing a TCoE.
Enhanced Alignment: By creating and monitoring KPIs, the TCoE keeps the quality effort closely aligned with business requirements.
Career Advancements: The model creates a compelling new career opportunity for IT professionals, increasing job satisfaction for QA staff and assisting the company in attracting and retaining top talent.
A culture of excellence: The organization can better focus on quality issues due to the switch from project-based testing to standardized quality processes and toolkits, which also hastens the development of a quality culture.
End-to-End Testing Center of Excellence by Trantor
As quality is increasingly valued, testing should be conducted sophisticated and economical. Trantor's unique Testing Center Of Excellence (TCoE) services combine a thorough understanding of sector-wide best practices with years of experience in providing software testing services. Performance, mobile, and security testing are the areas where we have implemented TCoE Software. Our client has significantly benefited from their QA investment because of the dedicated labs that have been set up within the company. With test accelerators and IP, our distinctive TCoE Services take over QA ownership and provide free testing R&D knowledge.