How CSM Influences Product Adoption: The Key Connection for SaaS Success
atif | Updated: October 5, 2023
McKinsey has said it: the world is in an era where growth for established businesses is flattening. Businesses need a fresh outlook to unlock success that isn't dependent on older aggressive marketing and commoditization strategies.
Research shows that the likelihood of customer retention improves by almost 30% for satisfied customers, which justifies the theory that customers are now at the foundation of business operations.
In SaaS businesses especially, customer success propels product adoption.
The Intersection of CSM and Product Adoption
Product adoption is a customer's journey as they discover, purchase, and start using a new SaaS product. SaaS products have a learning curve, making product adoption a challenge.
However, given that the future of SaaS businesses depends on the success of their products, it is imperative to approach this challenge from the customer's perspective.
For a lead to convert and become a champion for a product, the business must first enhance its efforts to enable the customer to navigate this transition.
Consider the product-led flywheel of growth:
The interplay of customer success management and product adoption becomes clear:
As a stranger discovers and explores your product, they are in the Evaluation stage. Your business must strategically provide information that nudges them to the next phase.
As the lead converts, they purchase your product and enter the Activation stage. The product adoption journey begins, and the business must make all efforts possible to make its learning curve as flat and seamless as possible.
Product adoption happens when your beginners become your regular customers – they are in the Adoption stage. By incorporating strategies like onboarding, real-time assistance, and handholding support, it is possible to get these users to move on to the next.
For businesses that have undertaken customer success initiatives seriously, their customers will see the next phase – Expansion. Here, they become loyal advocates for the product, helping bring more customers.
Customer success is like a product feedback loop that improves on itself by keeping the customers at the forefront of all its operations. Your business can leverage tools like Akita, Customer SuccessBox, and Zendesk to get started with CS at your firm. They can help you track KPIs like churn rate, MRR, ARPU, Net-dollar retention, etc.
Benefits of Effective CSM on Product Adoption and SaaS Success
Existing customers help your business create and deliver value through your products. 80% of the value creation happens through core business activities, of which the existing customers are integral.
Incorporating customer success management for product adoption in SaaS has several key benefits:
Retention, Sales, and Customer Engagement
By focusing on customer success instead of short-term acquisition strategies, your business can enjoy a three-tiered benefit:
Boost in sales strategies, like cross-selling and upselling.
Boost in customer retention.
Boost in customer satisfaction levels.
Business leaders need to shift focus to cultivating growth by enabling customers to enjoy their products.
Boosts Revenue
Today, the customer controls business strategies, whether for revenue growth or improvement in product adoption. Surveys show that businesses focused on experience-oriented growth, noticed doubled revenue between 2016 and 2021.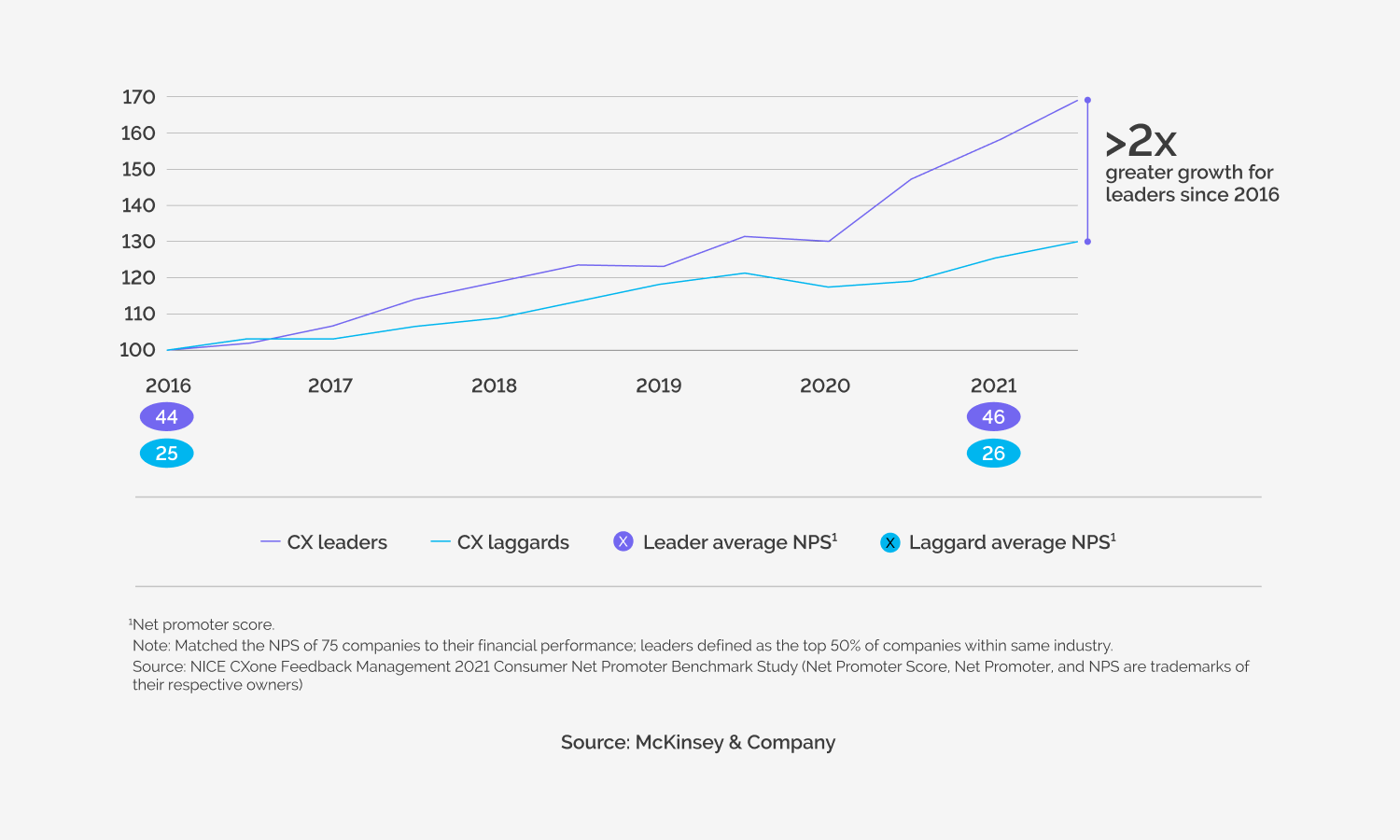 Prevents Customer Churn
Applying customer success strategies to product adoption removes customer's obstacles while using the product. It helps reduce customer frustration; over time, customers can achieve their goals from the purchased product.
Simplification of onboarding is the key to reducing churn by using customer success strategies through simple product adoption measures.
Overcoming Challenges in CSM and Product Adoption
One of the challenges for a SaaS business in promoting product adoption using CS strategies is closing the gap in the NPS scores between users and buyers.
A Gainsight study found that while the median NPS stood at 46 for executive buyers, it was only 36 for the actual users of their product.
The lowest score for users was -6, and it didn't change much for buyers either, standing at -5.
While buyers are convinced enough to invest in a SaaS product, there's a lag (or absence) in delivering corresponding value to the end-users. Users aren't using the product to achieve their goals from it. Overcoming this value shortage and reducing the time to value for real-world users constitutes a challenge in product adoption and customer success.
Speaking of challenges, customer success teams have ranked 'Reduction in customer churn' and 'Increment in product adoption' as their core responsibilities:
The leading indicators of customer churn are the problems users encounter in utilizing a product (MAU/DAU). They are a direct indicator of failing CSM initiatives.
Leading challenges for customer success teams revolve around product adoption and time to value for the end user.
The Future of CSM and Product Adoption in SaaS
For SaaS companies, it is crucial to understand that product adoption is the ultimate driver of growth and revenue. Customer success management can address this issue most effectively.
Organizations should embrace cultural change by accepting CSM initiatives at the core of all their operations.
Trends highlight the importance of reducing churn and improving retention, specifically in the case of SaaS businesses. Organizations can employ AI-based predictive tools to identify churn signals and act on them before losing precious customers.
Product Adoption Through CSM Needs to be Enmeshed in Business Operations
2021 acted like an inflection point where 41% of the companies had a CSM team or operations, representing a boost of 300% as compared to previous values.
Businesses are already realizing the significance of CSM and product adoption. For SaaS companies, their end-user drives their endgame – the shorter the time to value for the end users, the better the outcomes from CSM x Product Adoption.